I've been playing
Flight Rising
since September, and I like it. It's got nice art and a pretty well-thought-out system, so I thought it might appeal to NCers!
In FR, you control a clan of dragons. You can breed them, sell them, trade them, and battle with them, and the devs are working on a future "adventure mode" where you'll explore the land, complete quests, and do other RPG-type stuff.
There are currently
12 dragon breeds
on site, and they can be customized with
15 different genes
, each of which can be one of 67 different colors. Male and female dragons have different poses. You can breed two dragons of any breed/genes/colors together, as long as they're not related within five generations.
The parents' breeds, genes and colors determine what the hatchlings will look like
(only the parents matter; this isn't a complicated system). Here are a few of my dragons: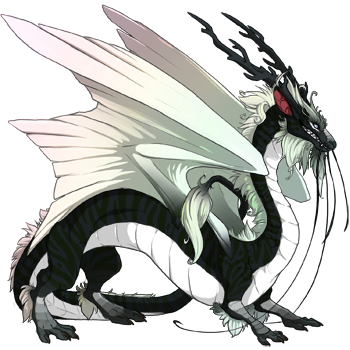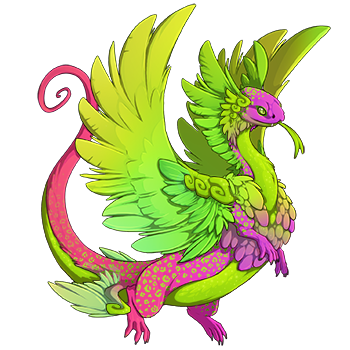 The entire userbase is divided into 11 "flights" -- Light, Shadow, Nature, Plague, Arcane, Ice, Fire, Water, Earth, Lightning, and Wind.
These exist in different geographical areas of the game's world
, and
each flight has its typical qualities
-- Lightning flight is all about science, Arcane is more magical, Light is into books and learning, Shadow flighters are tricksters, etc. The flight you choose determines
your hatchlings' eye color
as well as the appearance of your clan pages and the location of your nest. You also have access to a special flight-only forum. Every week, whichever flight exalts the most dragons (sends them to serve their god, removing them from the game) is "dominant" and gets special perks. Flights usually work hard for dominance with coordinated exalting efforts, raffles, and the like.
The battle coliseum has a neat system and is a great way to make treasure, especially if you assign your stats properly --
here is the best guide for that
. I spend most of my time in the coliseum. There are also a few HTML5 games to play, including a Faerie Bubbles clone.
Each dragon can have a familiar (like a minion or a petpet), and you can dress dragons up in different apparel. There are also different skins available on site that completely change a dragon's look, and users can also submit their own skins and accents (accents cover up to 30% of a dragon's surface and can add neat effects).
Here's a female Guardian dragon with a spotted accent and a piece of apparel (a bird):
And a male Guardian with a fish scales accent and a bunch of apparel:
The site is still closed to new membership most of the time because high traffic tends to overload the servers, but the devs have been working on improvements over the past few months, and the site has been very fast and stable lately. They are opening a registration window from
Monday, April 14 at 5am PST to Tuesday, April 15 at 5am PST
, so if you want in, you have a full day in which to register.
I'm
Cranberry
there, natch, so if you do sign up, send me a friend request! Check out the
encyclopedia
for more details about everything, look at the forums and the other pages you can see without being registered, and go ahead and ask me any questions you have about the site; I can most likely help.